If you know me very well, you may know reading is not my favorite hobby. I had one literature class in college where the professor assigned a series of books to read and he gave only one pop quiz on each book. I drudged through each book…. until the pop quiz. Once I took the quiz, I didn't open the book again.
You might be familiar with the popular children's book, If You Give A Mouse A Cookie, by Laura Numeroff. I read this favorite to my kids more than a few times when they were little, but my wife thinks the story has taken new shape in our home.

The Leak
It started with a small leak. One evening we noticed the paint on the living room wall in one corner had a vertical bubble. The bubble increased in length down the wall over time as we ignored the problem. Finally, we knew we had to do something about it, so my thought is if we are going to go to the trouble of ripping out sheetrock and shingles, why not make it better?
Our home was built in 1978 and there are many reasons we love this place since it became ours in 2006, but our living room was not one of them. The ceiling was low. The back door was not located in a place conducive to traffic walking through. And the single pane windows were divided and not energy efficient.
The Improvement
We had previously talked about improving our living room so with this roof leak, we had the perfect opportunity to do something about it! We spent a few days dreaming and drawing ideas on the back of napkins. I have my best ideas when having lunch with my wife and drawing out plans on the napkins at hand.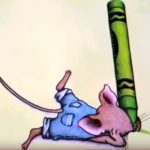 Soon after I get a few preliminary ideas down on napkins, I'm ready for demo! I have the greatest demo crew around—my boys, Wesley (aka Sledge), Omar and Saimon. As our project grew from the living room to redoing the back exterior of our house, we recruited my girls in some of the demo work too.
In the storybook, If You Give A Mouse A Cookie, there's a part when the mouse sweeps the floor where he made a mess after giving himself a trim. Then it says, "He might get carried away and sweep every room in the house."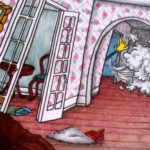 If we were going to make our living room more energy efficient, then we should make other parts of our house more energy efficient. We tore off the exterior in the back, added plywood and Tyvek, and then replaced the old porous brick with siding and stone.
I don't think that's getting carried away.
We made our living room better but also made some memories in the process.
A New Leak
Our oven went out a few months ago and then the plumbing under our kitchen sink started leaking recently. I started drawing ideas for a kitchen remodel because if you give this builder a leak, he may want to tear out the entire room.