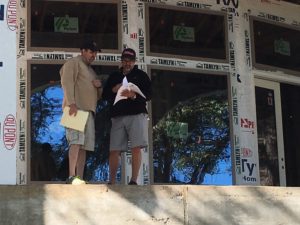 There are some things I just take for granted.  One thing that has been more obvious to me in the last few months is the number of subcontractors I work with that I have worked with for several years.  I have hired the same HVAC company, electrician, trim carpenters, framers, and many others for many years--Some since 1999 when I first entered the industry as a Project Manager for another company.
I was first reminded of how fortunate I am to work with the same subs when I began a Lake House for a client in New Braunfels earlier this year.  Some of my subs were willing to travel and do the work nearly 3 hours away.  But others could not and I had to find some subcontractors in the local area.  After having the first local framing crew walk off the job, and struggling to find another crew to finish, I count myself very fortunate to have had the framing crews here who I can count on to show up, do quality work and finish what we agree upon.
---
That relationship also makes a difference when life takes an unexpected turn. 
---
Now that reconstruction has begun for many homeowners since Hurricane Harvey, I have found that I am managing more projects than ever that are on the same timeline.  Tear out began when water receded.  And as work has commenced, I have needed my subcontractors to handle multiple jobs at the same time--causing some homeowners to wait.
I am thankful for the subcontractors who have been dependable year after year.  With the work ahead, we will all stay busy for a while.  And as the work continues to grow, I am meeting additional subcontractors who may become regulars for me.  I recognize that relationship makes a difference.  Relationship matters and it is what keeps us persevering in times when a project is challenging or when we experience dips in the economy.
That relationship also makes a difference when life takes an unexpected turn.  I got a text from my electrician that his son is in the hospital—he didn't text me so much as to tell me he wouldn't be available for a project, but to ask for prayers.  I invite you to pray for him too.  We won't take that for granted.